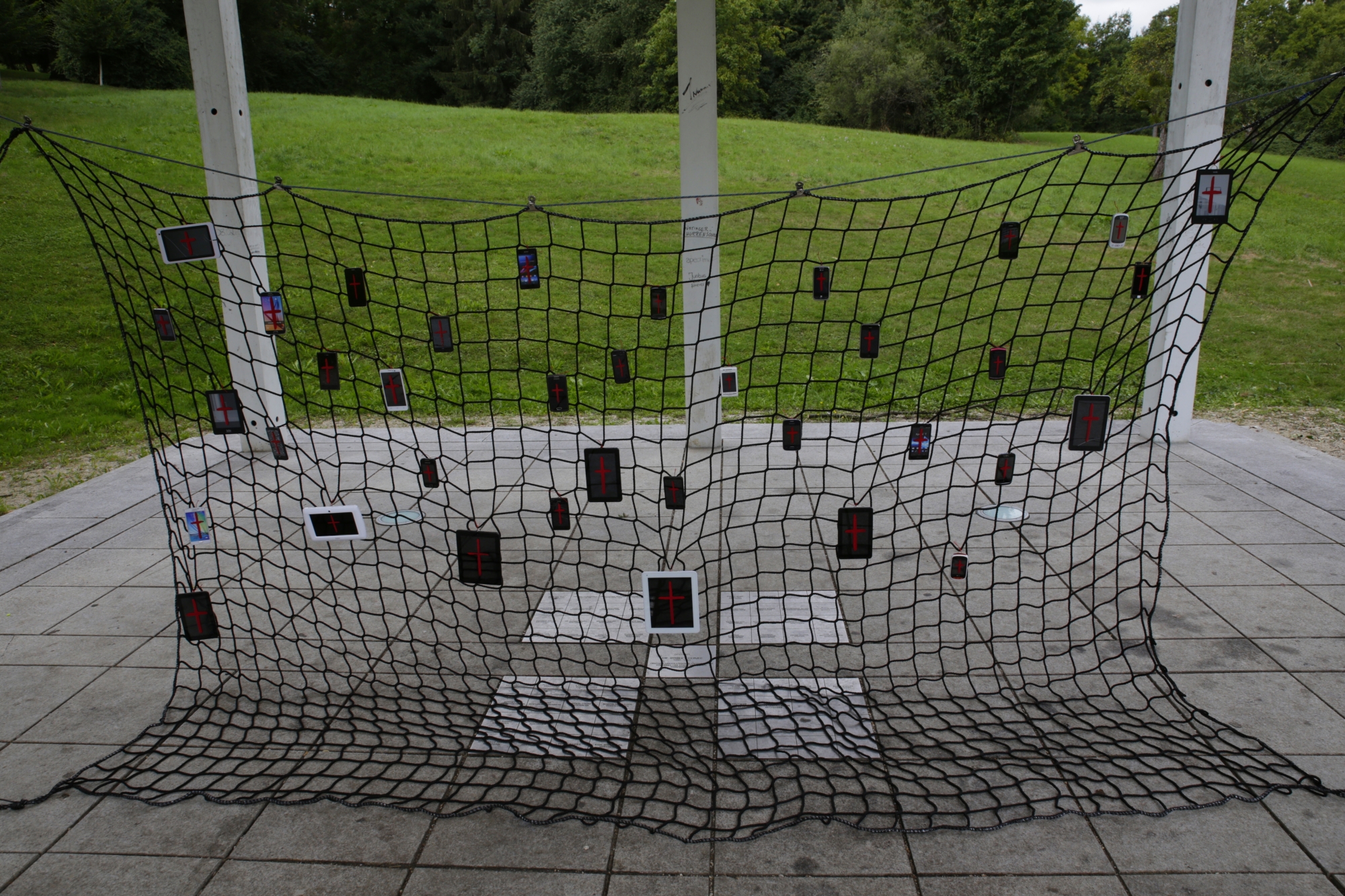 ---
"Kryptographie", 2015

Installation aus Smartphones, Tablets und Netz, "Wischtechnik"
Was macht das Smartphone oder Tablet im Hintergrund, wenn wir über das Display wischen? Und könnte es sein, dass der komplizierte Rechenvorgang im Hintergrund banaler ist, als das "Zeichen", das durch wischen unbemerkt vollzogen wird? Mit meinen Fingern hinterlasse ich als Künstlerin Spuren in Erde, Ton und Farbe. Welche Spuren mein Finger beim Scrollen auf dem Display hinterlässt, was das für kryptische Zeichen sind wollte ich genauer wissen. Es ergaben sich zwei Hauptspuren und Punkte an verschiedenen Stellen. Eine horizontale und eine stark ausgeprägte vertikale Linie. Ein Zufallsprodukt der ausgeklügelten Technik. Was sind das für unbewusste Handlungen, bei denen ich mehrfach täglich das Smartphone bekreuzige?
---

 "Cryptography", 2015
Installation made of smartphones, tablets and net, "wiping technique"
What is the smartphone or tablet doing, while we are wiping the display? May the complicated background calculation process eventually be more mundane than the "signs" that are applied unperceived by wiping? As an artist, my fingers are leaving traces in earth, clay, and color. I have been curious about what traces and cryptic signs I leave by scrolling the display, resulting in two main traces (a horizontal and a bold vertical line) and dots at different places. An accidental product of sophisticated technology.What kind of unconscious acts do I perform several times a day, that create the sign of a cross on my smartphone?
---