Arbeiten aus Schulzeit, Kunststudium und Abschlussarbeit (Auswahl):
Works from school days, art studies and final dissertation (Selection):
---
Wer die Vergangenheit nicht ehrt, verliert die Zukunft.
Wer seine Wurzeln vernichtet, kann nicht wachsen.

(Who does not honour the past, loses the future. Who destroys his roots, can't grow.)

Friedensreich Hundertwasser, 1991
Das sind 8 von 20 Arbeiten aus meiner Diplomabschlussarbeit zum Thema: "Horizontale und vertikale Gestaltungselemente in der Bildkomposition", 1995 (Technik: Caseintempera auf Leinwand). Das Bild "Fenster zum Meer" befindet sich im Besitz der Kreis-Kunst-Sammlung des Landkreises Esslingen.

These are 8 of 20 works from my diploma; the topic was "horizontal and vertical design elements in picture composition", 1995 (Technique: Caseintempera on canvas). The picture "Window to the Sea" is in the possession of the Kreis-Kunst-Sammlung of the district of Esslingen.
"Köpfe in Grün" (Garten der Gequälten) Diptychon, 1994, Caseintempera auf Leinwand, 2 x (120 x 90 cm), 3. Studienjahr
"Heads in Green" (Garden of the Tortured)", Diptychon, 1994, Caseintempera on canvas, 2x(120 x 90cm), 3rd academic year)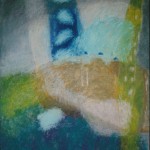 "Farbklang III", 1993, Ölpastellkreide auf Holz, 120 x 100 cm entstanden im 2. Studienjahr (Kunststudium)
"Color Tone III", Oil Ppastels on wood, 120 x 100 cm, 2nd academic year.
Freie Studie eines "Männlichen Portraits", "Portrait Heinrich George" nach einem Gemälde Otto Dix, "Irini" nach meinem Bildnis der "Irini", 1987, "Kinderportrait", 1988
Open study of a "male portrait", "portrait Heinrich George", loosely based on a painting from Otto Dix, "Irini" from my portrait "Irini", 1987, "Child Portrait", 1988
Die Bilder entstanden als praktischer Teil meiner Jahresarbeit "Körpersprache", 1987
The paintings were created as practical part of my graduation work (Jahresarbeit) "Body Language" (1987)