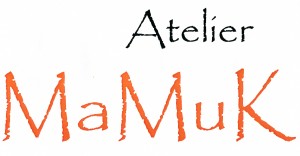 DAS ATELIER

MaMuK ist mein Künstlername und leitet sich ab von meinem bürgerlichen Namen & Künstlerin (Marion Musch Künstlerin).

Im Atelier MaMuK gibt es einen kleinen Kunstraum für Kurse mit Kindern und Erwachsenen, sowie für Kunsttherapie, eine Kunstwerkstatt und mein eigenes Atelier.

Die Werkstatt besitzt ein Schaufenster, in welchem regelmäßig Ausstellungen eigener Arbeiten oder Kunstarbeiten meiner Schüler gezeigt werden. Auch in der "Treppengalerie" des Ateliers, gibt es wechselnde Ausstellungen. Zu bestimmten Veranstaltungen, wie Tag der offenen Tür oder während dem Sommerferienprogramm wird der Atelier-Vorhof zur Outdoor-Galerie.

Das Atelier MaMuK wurde 2016 und 2017 als sozial engagiertes Unternehmen ausgezeichnet.
MEINE KÜNSTLERISCHE ARBEIT

"Unterwegs" auf einer künstlerischen Reise mit verschiedenen Stationen, Wegmarken hinterlassend; so lässt sich meine vielfältige künstlerische Arbeit beschreiben.
Nicht ein einheitlicher Stil ist meine Stärke, sondern die ständige Suche und Weiterentwicklung meiner Ausdrucksmöglichkeiten. Die Malerei, vor allem mit natürlichen Materialien von Eitempera über Caseintempera bis zur Eigenkreation der Rotwein-Aschelasur, ist Ausgangs- und Schwerpunkt meiner Kunst. Zur Vertiefung mancher komplexen oder zeitgenössischen Fragestellungen wie Gentechnik, Vernetzung, Religion und Dialogfähigkeit habe ich sowohl in der Installation als auch in der Konzeptkunst erweiterte Ausdrucksmöglichkeiten gefunden. Themen meiner Arbeit sind Spiegelungen, die menschliche Gestalt, Erde-Asche-Sand-Objekte, Engel, Kreuzdarstellungen und gesellschaftspolitische Themen.

(Marion Musch)

THE STUDIO

My artist`s name is MaMuK, Marion Musch Künstlerin, which derives from my proper name and the German word for artist (Künstlerin).

The atelier MaMuK comprises an art workshop, my own studio, and a smaller art room for courses with children, adults, and art therapy.

There are manifold opportunities, e.g. a showcase window in the workshop to present my and my student`s artistic works in regularly temporary exhibits, the "stairway gallery" with changing exhibitions, and the studio`s front yard, which will be opened as outdoor gallery for specific events like the open house day or during the summer holyday program.
MY ARTISTIC WORKS

"Underway" on an artistic journey with numerous stations, leaving milestones; that's how my varying artistic work could be described best. My strength is not one homogenous style, but the constant search and development of opportunities to express myself.
Painting, especially with natural materials like egg and casein tempera and own discoveries like my red wine ash tincture, is my professional focus and point of departure. From here I find further ways of expression (for example installations and conceptual art) to deepen many complex and contemporary questions like genetic engineering, networking, religion, or dialogue ability. Reflections, human figure, soil-ash-sand objects, angels, cross presentments, and sociopolitical aspects are central to my artistic work.

MaMuK (Marion Musch)